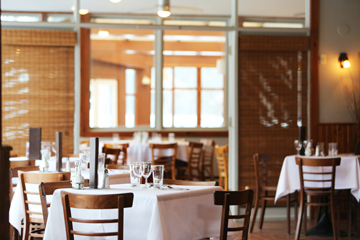 September 10, 2020
Ghost Kitchens and Virtual Restaurants: Legal Considerations
The relatively recent phenomena of "ghost kitchens" and "virtual restaurants" have flourished during the current global pandemic.  The notion of creating a "virtual brand" which is available only through proprietary or third-party delivery apps provides various benefits particularly at a time when governmental orders have restricted the use of dine-in restaurants.  These virtual brands do not utilize typical bricks and mortar locations featuring dine-in service.  Nevertheless, they still require bricks and mortar locations for the production of their menu items and to serve as pick-up locations by those making the deliveries.
The main difference between a ghost kitchen and a virtual restaurant is that the latter is usually associated with a restaurant or franchise system using existing kitchens in existing bricks and mortar restaurants to produce and promote products for delivery only through delivery apps under a brand not associated with the restaurant itself.  By contrast, ghost kitchens tend to be brands which rent the use of facilities which are established for the production of virtual brands.  Ghost kitchens may produce multiple brands for the same owner utilizing similar ingredients but packaged in completely different ways.  Ghost kitchens can also be utilized by more than one organization at one time in shared facilities.
Ghost kitchens are an excellent way for a new chef or an existing brand to test out new concepts or new items without making the investment into a brick and mortar location.  They are somewhat restrictive in that they can only offer limited geographical coverage.  An operation may therefore need to utilize several ghost kitchens in various locations to get necessary delivery coverage beyond a small geographical area.
There are a number of legal considerations involved in the creation and operation of ghost kitchens and virtual restaurants which are highlighted in this article.
Names/Lease Use Clauses
Although ghost kitchens and virtual restaurants typically have no visible signage and are not promoted in the same way typical restaurants are promoted, a name is no less important to a ghost kitchen or virtual restaurant than for any restaurant.  The same attention must be paid when selecting a name as with a full-scale restaurant.  Trademarking considerations including the trademark rights of others must be taken into account.
A second important consideration for the brand owner is to ensure that it can operate using its chosen name out of its designated location.  If an existing restaurant is being used as a virtual restaurant to promote a virtual brand, the lease must permit the general use of take-out or delivery and must not be restrictive to a particular brand.  Consideration must also be given in these circumstances to whether there are any exclusive use obligations contained in a lease which might restrict what products can be sold out of a virtual restaurant.
Reservations of Rights
If a franchisor or franchisor-related entity is establishing a ghost kitchen, it must ensure that its rights to operate have been reserved in the franchise agreements utilized in the franchisor's system.  Franchisor virtual brands may operate out of franchised locations in an exclusive or non-exclusive franchised territory.  They may combine menu items from existing concepts or serve as testing grounds for products which may or may not be introduced into the mainstream system.
Where such rights may not be expressly reserved, a franchisor or franchisor-related entity will need to consider whether the sale by it of new items typically sold by its franchisees in the franchise system may breach its contractual obligations or offend its statutory fair dealing obligations to any affected franchisee.
Care must be taken to ensure that the establishment and operation of ghost kitchens by franchisors do not have the effect of cannibalizing franchisee business so as to derail the traditional franchised businesses.  System advertising funds must also not be improperly used to benefit the franchisor's business where no reasonable benefit accrues to the franchisees.  Franchisors may want to consider offering ghost kitchen outlets to a nearest franchisee similar to the practice of offering underdeveloped territories to the nearest franchisee for use as a satellite store.  Such practices avoid the appearance and the potential fact of the franchisor competing with its own franchisees.
Where franchisors require franchisees to utilize their kitchens or ghost kitchens for the production of new items for a virtual brand, it is important that franchisees understand the limits of what interest they may have in the brand and menu items themselves.  The ability of a franchisor to require the franchisee to discontinue the production and sale of the menu items must be communicated to the franchisee clearly as must be the franchisor or its related entity's ability to offer the same menu items through an alternative system at the same time or subsequently.
Disclosure
The existence of such businesses will also need to be disclosed as a matter of statutory franchise disclosure where such disclosure laws exist.  This disclosure alerts a prospective franchisee to the possibility that its menu items may be sold in non-franchised locations either by the franchisor or a franchisor-related entity within its trading area or even more generally.
License Rights
If any entity related to a franchisor establishes a virtual brand where it is intended that such production will be sold by franchisees out of their kitchens, they will want to ensure that the proper licensing rights exist between the related entities that would permit the franchisor to sub-license the right to create the new items to its franchisees to be sold by the franchisees under their franchise agreements.
Liability/Insurance/Trade Secrets
For a ghost kitchen brand, it is necessary to consider liability and insurance issues if kitchens are being shared by various operators in a commissary situation.  The brand owner will also want to ensure that its new items are protected from other users of the commissary from a trade secret perspective.  Users of ghost kitchens will also want to ensure that the facilities they are using are properly zoned and licensed and adhering to the highest levels of food safety standards.
Proprietary Apps
An important initiative in recent years has been the development of proprietary apps for take-out and delivery purposes.  Many restaurant concepts were motivated to develop their own apps for three specific reasons:
to reduce the cost of providing delivery services which have produced marginal profitability at best given the cost of using third-party providers;
to allow for more uniformity in the pricing of menu items which has often had to be higher when the same items are available through third party providers;
to permit for the collection and utilization of customer data and the development of loyalty programs.
There is an opportunity for virtual brands to share collected information.  Users of proprietary apps will need to agree through the terms of use of the apps to the collection and sharing of any personal identifying information.
The development of ghost kitchen and virtual restaurant businesses have received a tremendous boost during the current pandemic.  If some predictions are correct that the increase in the use of delivery systems for meals will be part of the new normal even if the pandemic subsides, it can be expected that these businesses will continue to develop and flourish.  As with all new businesses, we are seeing new forms of agreements and contractual provisions and the development of insurance products to address the legal issues they raise.
Allan D.J. Dick, Sotos LLP
Allan is the co-managing partner of Sotos LLP and sector leader of the firm's Restaurants practice area. Allan is a trusted primary advisor to many top franchisors, with more than three decades practising law in the franchising, licensing and distribution industry. Allan has been recognized by Chambers Canada, Canadian Legal LEXPERT Directory, Who's Who Legal, and Best Lawyers in Canada as a leading Canadian franchise law practitioner. He can be reached at adjdick@sotosllp.com or by cell at 416.805.8989.
This article was originally published by Foodservice and Hospitality magazine in August 2020 issue.